KRAZY GEORGE
Is the world's most famous cheerleader.
In the last 40 years, Krazy George has
performed in front of 25 million fans
and has been seen by hundreds of millions on TV
———
KRAZY GEORGE
INVENTED THE WAVE
On October 15, 1981
At the Oakland A's New York Yanks Playoff Game.
This caused the whole world to stand up and cheer
as the wave circles stadiums around the world

GIVE KRAZY GEORGE 25,000 FANS.
In one game, he turns them into 25,000 FANATICS
GIVE KRAZY GEORGE
An appearance at your business meeting.
In a few minutes, he turns them into Corporate FANATICS for your company.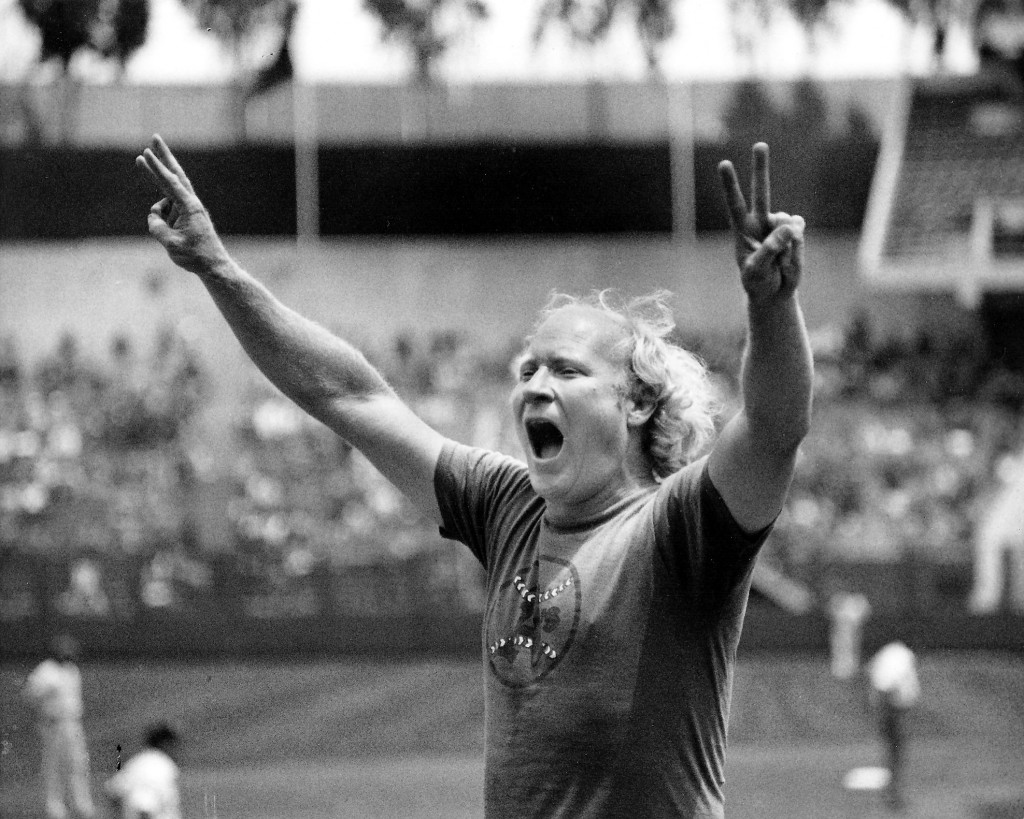 KRAZY GEORGE
Because 95% of the teams that hire him one time…
Bring him back a SECOND, THIRD, FORTH TIME or HIRE HIM FULL TIME
THE WORLDS SEXIEST
PROFESSIONAL CHEERLEADER
The worlds most famous cheerleader.
In the last 40 years appeared in front of 25 million fans a nd has been
seen by hundreds of millions on TV
Krazy George started as a fan in the stands in 1968 at San Jose State University.
For the next 7 years his notoriety grew in the San Francisco Bay Area until Lamar Hunt, owner of the Kansas City Chiefs, brought him in for one Chief's game.
Krazy went over so well, Mr. Hunt hired him full time for every home game from 1975 to 1979 and a new professional career was born.
Krazy George is the first professional cheerleader ever.
Besides all the teams Krazy George cheers for, he's had feature stories written about him in such magazines as "People."
He's been a guest on many TV programs including, "Hollywood Squares" and "To Tell the Truth."
He's had interviews on numerous national and local radio and TV shows. September, 2003, San Francisco's KPIX TV program, EVENING MAGAZINE, produced a large segment on Krazy George, his career and the invention of the WAVE.
He's been in many radio, TV and newspaper ads as a spokesperson for teams and their products.