THE TWENTY-FIFTH ANNIVERSARY OF THE WAVE
October 15, 2006
Flash forward twenty-five years – October 2006.
Back in the Oakland Coliseum! Krazy George celebrated the anniversary of his creation of the Wave by performing it during a game between the A's and the Los Angeles Angels.
A second celebratory wave was led my George at his alma mater San Jose State, the place where his Kraziness began.
ESPN's camera crews captured the Wave action for the TV special produced by Martin Khodabakhshian, "The Twenty-Fifth Anniversary of the Wave."
---
ESPN – THE WAVE – 25th Anniversary – 2006

---
 Colbert Report
Click here for The Wave video on the Colbert Report in 2006
---
 Sunday Morning with Charles Osgood
---
Allison Stewart Show
---
---
CONTROVERSY SETTLED
The University of Washington provided both by maintaining they were the ones who created the first Wave on October 31, 1981 during its game with Stanford – totally ignoring that George performed it in front of a national TV audience sixteen days earlier in Oakland as evidenced by the A's highlight film for that year. The unrelenting false assertions of the university establishment and its fans drove George nuts. Today the University of Washington's  claim has since been thoroughly debunked. After all, even in 1981, October 15 came before October 31.
---
Articles
It's settled: Where The Wave first started
Click here to read the article It's settled: Where The Wave first started by Doug Williams on the ESPN Playbook website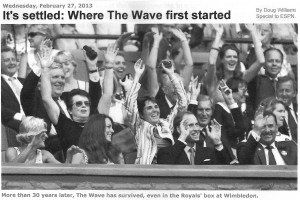 Click here to read the article Tras los pasos del inventor de la ola by Mario Villagrán on SohoMéxico.com
---
New York Times Magazine, "Who Made That"
---
Joe Garagiola, Hall of Fame broadcaster for NBC, said from his home in Scottsdale, Arizona.
"I remember during the game that all of a sudden the fans started getting up and then sitting down. As I remember, it looked the same or better than what they're doing now. Our producer, Don Ohlmeyer, was trying to get the cameraman to catch the Wave, but he was always one section behind. He (Ohlmeyer) kept pounding on him (the cameraman) saying, "Get it! Get that thing!"I had never seen anything like it. It was super."